How Neighbourhood Watch Improved My Community: A Case Study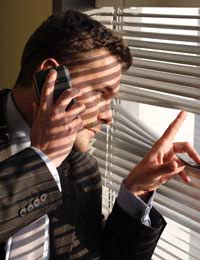 Bill Gillies, a warehouseman, has lived in his central city home in Edinburgh for over twenty years. In that time he saw vandalism become an increasing problem as homes emptied and shops closed down. "My wife and I began to feel uncomfortable being out at night and some of our elderly neighbours simply wouldn't go out after dark." There were occasional break-ins at nearby flats and graffiti appeared in the streets. "There wasn't a good atmosphere at all."
Although Bill and some of his neighbours would complain to each other about the problems they all felt powerless until the police offered local people a meeting which Bill decided to attend. "They told us about Neighbourhood Watch, what was involved and how it could help communities to take back control of their surroundings" Bill liked the sound of it and decided it was just what his neighbourhood needed. He agreed to take on the role of a coordinator and set up a series of meetings for local people to discuss their issues with the police and find ways to start tackling the problems.
"Thirty other people signed up and we started putting up signs in three streets locally. It felt positive just to share our feelings about the problems," says Bill. With the help of police officers Bill discovered that people began to pull together and feel hopeful that they could tackle some of the problems. Bill set up a rota for people to watch their street and encouraged people to go through a process of reporting incidents as soon as they happened. "Once we set things in motion, people felt more able to come forward. They realised that someone was listening and the police were keen to take action."
Bill also began talking to his local council who sent out a team to tidy up the graffiti and vandalism. "We organised volunteers to help them clean up and there was a real sense of pride and community spirit as we improved the appearance of our streets." In liaison with the police Bill and his Neighbourhood Watch also arranged for more local street patrols, creating a visible police presence to deter vandals and criminals. "We began to show them that we simply wouldn't tolerate such behaviour."
An unexpected benefit of the Neighbourhood Watch was that neighbours felt far more able to talk to each other and new friendships were formed. "Some people began visiting elderly residents and even set up a team to pay visits and to help out with shopping, driving and small jobs around the house." Another benefit for residents with children was that they felt more able to let their children play outdoors.
Although not all of the problems have been resolved there has been a noticeable drop in damage and particularly break-ins. Bill successfully lobbied the local council for increased street lighting which means that local people are more likely to go out in the evenings and that the street is more visible and provides less cover for vandals. "Our next target is to get more landscaping for the streets to show a sense of civic pride. We are also in talks about setting up an evening club for teenagers in the local school as a lot of the destruction came about because they were bored and had nothing else to do."
Now Bill is on friendly terms with almost all of his neighbours. "It's about belonging. We're all part of the same community. Neighbourhood Watch shows that you take pride in where you live. There is a lot of strength when people come together to stand up for their neighbourhood. People feel much safer now."
You might also like...