Setting Up a Residents Group: A Case Study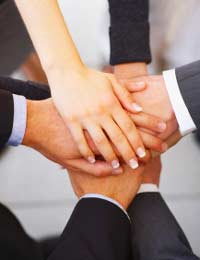 Julie Garland's village has become a friendlier place since she and her family moved there five years ago. "Neighbours help each other out and our children are safe to play outdoors." There is a new sense of civic pride since Julie set up a local residents group. "I had been a member of one where we lived before and it seemed to make sense to start one up here. It was the ideal way for me to get to know my neighbours."
Julie placed an ad. in the local paper and in shop windows and also sent an invitation to all the parents at her local school. She arranged a meeting in the village hall to sound out support for an association. "I suggested three main aims – friendly neighbours, a nice environment and community initiatives." She found plenty of supporters and approached the local council with a request to formally create a Residents Association.
At a second meeting a committee was elected with Julie as Chair. It was agreed that the Association would cover the whole village and hold regular meetings where residents could raise issues, identify suggestions and come together to exchange views.
One of the first issues the Association tackled was the proposed closure of the village post office. "The nearest post office otherwise is in a town ten miles away which just isn't practical for many of our residents especially the elderly and those without cars." The Association formed a petition and lobbied local councillors and the Post Office to successfully retain the post office in the village. A party was held in the village hall to celebrate their victory and membership of the Residents Association increased to over 150 households.
"It's important to canvas local opinion and to take up issues which really matter to people." Julie says "A Resident's Association is all about ensuring the best quality of life for everyone in our community." Part of Julie's role includes keeping close links with her local council as well as the police and other authorities and local amenity groups. Other members of the committee act as social secretary, treasurer and fundraiser to help pay for events within the community. "We've had street parties and other special celebrations as well as a regular Christmas party for all the children in the village and their parents."
By gathering together to express their views the residents of the village have also scored victories over local bus timetables and the provision of hospital services. In terms of the environment they have a team of volunteers who regularly carry out a litter patrol and have also raised funds to plant bulbs to help landscape the village green.
Members of the Association have also organised an exhibition on the history of the village alongside local schoolchildren. "The Association helps to create links between the generations." Julie says "and really helps to foster a sense that we all share in our community. Setting up an Association just takes a bit of time and determination. I certainly found my local council very supportive." When Julie took the initiative she also found her neighbours were delighted to follow her lead. "I believe in people power. You'll be surprised what you can achieve if you give it a go."
You might also like...