What Does a Neighbourhood Watch do?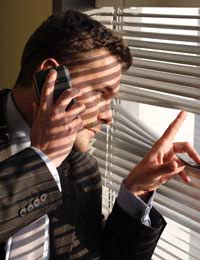 By now we're all familiar with the name Neighbourhood Watch and the general idea of what it does. But not many know the full extent of their remit within the community. There's more to it than simply keeping an eye out for wrongdoing.
Neighbourhood Watch History
It's an idea imported from the US, where it began in the 1970s. The first British Neighbourhood Watch was set up in the Cheshire village of Mollington in 1982 by Harold Cooper. It was an informal arrangement, simply neighbours keeping their open when the area experienced a rash of burglaries.
With police support it proved very successful, and soon Cooper was taking calls from all over the UK as people asked about setting up their own watches. Since then it's gone from strength to strength, and has become official, with backing from the police and the Home Office.
What the Watch Does
The first thing to remember is that every member of a Neighbour Watch is a volunteer. They're there because they want to do something about crime in their community. In high crime areas that means helping to reduce the incidence of crimes, and where it's low making sure it stays that way. The Watch is also a partnership between those volunteers, local authority Community Safety departments and the police.
Watches are known for keeping their eyes open and reporting any suspicious activity to the police, who can then take action. Watch members aren't have-a-go heros, and they're not intended to be. They have a role, and leave apprehending the bad guys to the police, who are trained for it.
Of course, crime will happen no matter how vigilant people are. The watch has kits people can use to mark appliances such as TVs, DVDs, etc. That way, if they're stolen and recovered, they can be returned to their rightful owners. It might not seem like much, but it all helps.So do the crime prevention kits that Watch members can give to people in the community. They offer tips to make residents feel safer, and to cut down on the possibilities of burglaries and car theft.
Perhaps the greatest contribution the Watch can make it to allow people to feel safer in their homes. That really is an important factor. People shouldn't have to live in fear, especially the elderly, and knowing the Watch is looking out for them can relieve a lot of community stress. It increases a sense of trust in the community and a community spirit that also makes the area a better – and, of course, safer – place to live.
In fact, the mere existence of a Neighbourhood Watch can act as a crime deterrent. People know they're going to be observed and details noted if necessary, and the Neighbourhood Watch sign at the head of a street acts as a warning. Additionally, police will take a tip from a trained Watch volunteer seriously and react quickly.
If there are crime trends in the general area, police will let Watch co-ordinators know, and they'll tell volunteers, which means local people can often be ahead of the criminals and be prepared.
You might also like...