About Rural Communities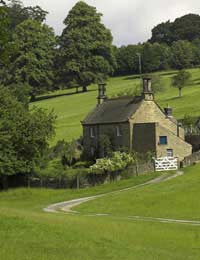 When we think of communities, we tend of think of urban communities. But about 20% of the population of the UK actually live in rural communities, and their needs are understandably different from those in urban areas.
They face different challenges, often travel more, especially by car, and the rural population is rising – mostly as a result of people moving away from cities. That means a different emphasis on needs, values and services in rural communities.
The Needs Of A Rural Community
In the countryside, people use cars more and travel greater distances these days. Much of that is because city residents have moved away from urban areas and commute to work. Because of this, smaller roads hold more traffic now, meaning there can be greater traffic congestion in villages, so rural councils have to deal with that.
But those aren't the only transportation issues facing rural residents. Bus services have been widely cut, and many areas have little or no train service, making things harder for older residents, and access to healthcare has been a growing concern, too, especially with the closure of a number of the old cottage hospitals.
Every community needs a centre, a focal point, and in countryside communities, that is generally the village hall, which might be part of the church, a separate building or even a British Legion hall. Where it might once have seemed just a place to hold WI meetings, these days the role of the village hall has greatly expanded. You're likely to find playgroups there for young mothers, a farmer's market once a month and all manner of activities encompassing the whole community.
One of the greatest challenges for a rural community has been keeping a young population. With house prices constantly rising due to the influx of people from the cities and fewer job opportunities, it can become harder to make young people stay, and every community needs to be self-renewing, so keeping the young around becomes important for communities, whether it's education, bringing in employment opportunities or finding ways to make housing affordable to the young who've grown up there and don't wish to leave.
Many communities have faced these challenges head on to keep their part of the countryside vital and growing, and there are plenty of organisations to help them, such as Action with Communities in Rural England and the Commission for Rural Communities.
The Future Of The Rural Community
Rural communities are in no danger of dying out, and nor will farming become a lost art, as the need for food production constantly grows.
With government help, many rural communities have really begun to tackle the important issues facing them. Some are national and some are specific to particular communities, and many communities are working together to help bring about change.
One area that's being addressed is to find the balance between longtime residents and the incomers, integrating them into the community, rather than the constant feeling that they're outsiders. Many are eager to be involved and help bring about change, but first they needs to understand the needs of those who've lived there all their lives, rather than impose their own values. Conversely, longtime residents also need to adapt, as the countryside is definitely changing.
You might also like...