How Places of Worship Help the Community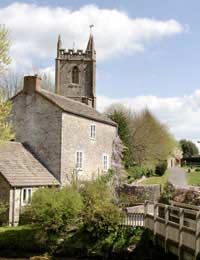 Historically religion has been involved in the welfare of the community. Not simply the spiritual welfare, but in more material ways. Before there was any kind of civil system in Britain, it was the Church that looked after the poor, for instance (often the alms houses were the gifts of wealthy patrons). Charity began with the Church in England, as the parish was a community around which people coalesced.
But these days we live in a multicultural, multi-faith society. Can houses of worship have the same impact on communities that they once did? We don't have anything like America's "faith-based initiatives," where government money is given to places of worship to carry out charitable and community-based programmes. What role can places of worship have in today's communities?
What can Places of Worship do?
Places of worship form their own communities within areas and neighbourhoods. No matter the religion, only a percentage of people who are eligible actually attend. But they're very strong communities, bound by their faiths and the principles.
At times, their meeting areas might be only places the community can use to come together to discuss issues or use as a community centre. At that point, the trick becomes separating the community at large from the religion, but that's been overcome so many times, at least in this country, that it needn't seem like a hurdle. The separation of Church and state is very strong.They also reach out to the vulnerable, not only of their own faith, but beyond – and a vicar, rabbi or imam can seem like a non-threatening figure to many. They can also organize events to bring the community together, and build tolerance – which is increasingly important today.
Working with the Community
The fact is that places of worship are vitally important within the community, and can work hand in hand with community organizations to improve the quality of life of the entire area.Together with a Resident's Association, for instance, they can increase the pressure on a council, bringing more weight and authority to bear on issues that affect a neighbourhood and community. Even more than Resident's Associations, official bodies will listen to representatives of places of worship.
Along with community organizations they can also look ahead to help plan the future of a community, especially a changing one. They form an easily recognisable and trustworthy block of stability. Even if people aren't religious, they understandably believe they can trust places of worship.
Volunteers
Through their congregations, places of worship have a built-in pool of volunteers who are willing and able to undertake volunteer work, to a greater or lesser degree. Often they'll have their own programmes, but they can also work with local organisations.
Where places of worship run effective programmes, communities can perhaps piggyback onto them, acknowledging the work that's been done, and coaxing in more volunteers, and where programmes need more volunteers to become truly effective, the community organizations might be able to help.
That way religion and community work together to become integrated. Each has its strengths, and its ideals of service.
You might also like...