The Community Centre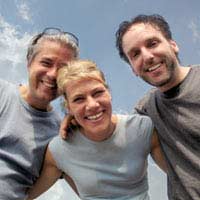 Ideally, the community centre is exactly what it says in the name – the centre of the community, a place where people in the area can come together for many different purposes. It gives people a sense of ownership over the neighbourhood, whether that's a village, a suburb or an inner city area.
What is a Community Centre?
A community centre is a building run for the local populace by a volunteer group made up of local residents – by the people for the people in action. It provides a place for activities of all sorts (that said, local authorities do run some community centres, but even those usually have a local committee for day-to-day management).
As of 1997, there were almost 19,000 community buildings in England and Wales, a figure taking in everything from village halls, church buildings used by the community to proper community buildings and others that are part of schools but with community use.
That's a large total, meaning that a vast majority of the population have access to a community centre. It gives scope for a huge range of activities that might not otherwise have a home, whether it's the local amateur dramatic society putting on a performance, musicians playing in villages via the Rural Touring Scheme, or addressing very practical needs like day care.
How It Brings a Community Together
By being available to all, the community centre can really be the heart of a neighbourhood. Yes, at times it might be hired out commercially, but that helps subsidise the other, community-based activities that are the real remit of the place.
The community centre will probably be the only community building around, one where young and old can come together safely. The greater the community involvement in activities there, the more the sense of pride grows, both in the place and what it achieves, and in the neighbourhood itself. That's important, and shows how the centre can create a feeling of cohesion.
A good community centre encourages and often initiates programmes that involve local residents as a way to bring them together. These days, as communities become more fragmented, that's more vital than ever. A multi-ethnic potluck dinner, a community talent contest – they might seem like small things, but their gradual impact can be huge.
The Management
In most cases, it will be a volunteer committee that runs the community centre. They're doing it because they believe in the community, not for personal glory. They're committed to making their neighbourhood a better place, and are usually very open to ideas for using the centre in very positive ways to its capacity.
The emphasis will be on programmes that bring direct benefits to residents, whether it's as a day care – that can be for both young and day centre for the old – for local fundraising events, carnivals, parties, youth clubs anything worthwhile. It's important to have residents coming into the centre, but even more important to keep them coming back regularly. Given that around 10% of the population use community centres every week, they're doing something right.
The more people who become involved with the community centre, whether as users or volunteer staff, the more effective they can be. That's particularly true with the young, who can often find it difficult to find places that want them and where they're accepted. Bring them in, and keeping them involved, means a sense of continuity into the next generation, which is vital for the survival of the community.
You might also like...
I'd like to know how someone gets to run a community centre as I'd like to run one
oxo
- 13-Jul-20 @ 10:24 PM
Do you currently use any fire stations as community centres either inside of London or in other ShireFire & Rescue Services?
#FireBrigade
- 28-Jan-18 @ 7:58 PM
Hi Just wanted some advice on a problem regarding my local community centres, they're all run by old men who use tge centre all for themselves, they don't allow the youth, or even volunteer groups like mine to organise any events, etc. For tge youth in our community. Where I live we have high crime rates and a big drug issues, this meeds sorting out but our community centres want nothing to do with it!!! What can I do? Can I take this up with the local council/Mp? Is there a point in fighting back? Or are those in authority more concerned about other issues rather than dealing with a 'disgruntled' citizen such as myself? Would appreciate any advice Regards Community-Man
Community-man
- 25-Feb-16 @ 11:09 PM
this website was useful and i found what i want. thank you
samaira
- 16-Dec-12 @ 12:53 PM