What Are Eco Communities?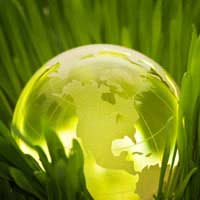 Are eco communities the wave of the future?
The government believes so, at least to an extent, putting its weight behind some eco towns, seeing them not only as ideals for sustainable living but also as good, affordable housing.
However, whilst they have received a lot of publicity and do represent a way forward, they're not the only type of eco communities in the country.
Others have sprung up in a more organic way – not imposed from above, but growing from the grass roots – that have a real community spirit.
Types of Eco Communities
The government's vision for eco towns is of fairly small communities, comprising around 20,000 homes. With good infrastructure and public transport, as well as low carbon technology, they do represent a strong avenue for the future, especially as they're being planned as low-cost housing to encourage young families and first-time homebuyers.
However, all these plans are still in the consultation stage, which means many things can happen before they become reality. Also, it would take time for a real community to gel around the new dwellings, as the residents won't know each other – a process similar to any new estate or area which is freshly built, but with one great difference: the people who move there have moved to the locations because of their belief in a green ideal.
The small eco communities that exist all over the UK are somewhat different. The ideal remains very much the same, with a dedication to sustainable living. In some ways they have more in common with the old communes of the 1960s, with many existing as co-operatives, the land owned in common by the members. They tend to be much tinier than the government plans, using renewable energy and home grown organic food as part of their lifestyle. They remain vital concerns, with more people joining all the time, although it does require a great level of commitment to become part of these communities.
Making Your Own Community Greener
Of course, moving to eco towns or eco communities isn't for everyone. But there are ways to make your own community greener. Your community centre and village hall might be a good place to begin, and you'll find it's possible to get grants to make this possible in several ways, as a prime example.
The more you can encourage individuals to participate, be it through better insulation (for which grants are available), recycling, using solar power or small wind turbines, then you're doing more to make your community eco-friendly. But there's much more that's possible. A lot of areas are quite poorly served by public transport. Having community groups lobby local councils and bus companies to improve their service - and the same applies to rail companies if the area lies on a rail line with an under served station – then you can lower the number of cars on the road, which can have a significant impact on local carbon emissions.
There are organisations that will help your community groups put on events to make community residents aware of the opportunities and advantages of going green. That can make a powerful start to making where you live, if not into an eco community, at least an eco-aware and eco-friendly community.
You might also like...