Defining Your Community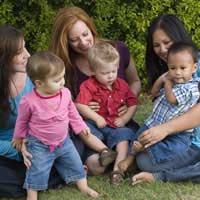 Community. It's an important idea one that's been around for thousands of years. But community can mean many things. For most of us, it's the people in our local area. That can be a street, a neighbourhood, an estate, a parish, even a country. But that's only one possible definition. A community can equally apply to people sharing a religion, from a church, temple or mosque. The religion forms the bond, the community between them.
It could be a group of people with similar circumstances or shared interests. Single mothers, American expats in Britain or those who fly model aeroplanes all form communities when they come together. The point is that before you can do anything as a community, you have to decide exactly what makes up that community.
Your Community
The chances are, if you're trying to organise a community, it will be either a geographical one or formed around the local place of worship. Those, traditionally, have been the main sources of community in this country.
With a place of worship, you have an automatic definition of the community – it's those who attend. You'll find that many will be willing to become involved in activities, as it binds them more closely to that community, and they're working with people who think similarly to themselves.
If you're looking at a geographic community, though, there are a number of questions you need to ask yourself. The biggest one, of course, is how big should that community be?
How Big Should Your Community Be?
You need one large enough to bring in enough volunteers, but still small enough that it has a real centre. In a village or small town that's not a problem, but in a city it can be. City neighbourhoods are more fluid, people move in and out without really knowing more than a few others around, and the concept of a neighbourhood becomes more nebulous.
For anything you're going to need volunteers, and it's a fact that only a small percentage of people are willing to donate time. That means your catchment area needs to be large enough to bring in the required number of people – in other words, it's a very fine balance! You might not achieve it immediately, but with some tuning you can get there. After all, the idea is to establish and keep a community.
Galvanizing a Community
However, a community needs something around which it can form. It could be an issue like a zebra crossing outside a school (which brings together local residents and the parents), a community centre, or even an idea like cleaning up waste ground. The stronger the issue, the more support you'll have, and the more people willing to be involved.
Usually, a community forms around a particular issue. Once it's achieved that goal, there's time to look for others to improve other things. From one small acorn, the whole oak tree of a lasting community, with spirit, can grow.
In fact, an issue itself can initially define a community – the people affected by it who come together to resolve or change it. Whatever does define a community, however, what you should always do is try to expand that definition, to make it more inclusive for everyone. That, after all, is what community is all about.
You might also like...