Creating Community Events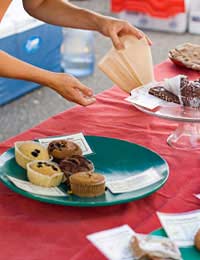 Community events from a jumble sale to a big community day, can be wonderful events. But they don't just happen by themselves. There's a lot of work needed for each one. That's not just on the day itself, but far more in the time leading up to it, and even after.
Initial Plans
First you have to decide what type of event to hold, and who will benefit from it. In many ways that's the easiest part. From there you need to organise a team of volunteers to help. Each should have assigned tasks. If it's a major event (and you'd probably be wise to cut your teeth on smaller events) you might even need committees to organise everything.
Something vital to remember is that its costs money to put on an event, often more than you originally imagined. It might be as simple as renting a hall, or far more complex. You might be able to get some funds from the council, but you're probably also going to need sponsors, which means approaching local businesses to help, either financially or by donating services such as printing or advertising. Set out a realistic budget and don't cut corners.
Allow plenty of time for things to be completely organised, don't wait until the last minute. Make sure you cover all your bases. Do you need to check with the police? What about insurance for the event? These are things you need to consider.
Make a calendar for the time leading up to the event, and mark everything need on it so you can be sure each task is done on time.Don't try and do too much yourself. Spread the work around evenly. If you have volunteers with expertise in particular areas, make use of it.
You'll also need to publicise your event. Have posters printed (preferably by a sponsor), send out press releases to the local newspaper, radio and TV stations. Include a contact number and follow up – you might get an interview or TV spot, which will bring a lot more people in.In the few days prior to the event, do your final checks on everything, especially the day before. After that, just be available on the day to deal with the inevitable problems.
On the Day
The day of the event will seem like a constant series of emergencies. Don't become flustered. If you've planned well, then most problems (at least those within your control; let's face it, you can't do anything about the weather or a few other things) should be easily solvable. Be visible, but not obtrusive – let others get on with it!
After the EventYour responsibility as event organiser doesn't end with the event itself. The tension might evaporate when it's over, but there's still work to do. You'll initially need a squad of volunteers to clean up.
Then, about a week after the event, sit down with the other volunteers and have a post-mortem. What went right, what didn't? Have an honest critique. Thank everyone for their efforts, but don't be afraid to find ways to improve future events – that's an important secret of ongoing success.
Giving thanks is vital, not just to the volunteers, but to everyone involved. Write letters to or visit the sponsors to let them know their donations were appreciated. The same is true of St. John's Ambulance or any other organisations that have given their time.A successful event can bring a wonderful warm glow. But remember, there's plenty of hard work involved, and the devil is in the details.
You might also like...