Community Play Groups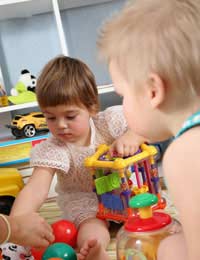 A community is made up of all types of people, but among those who can find things hardest are the young, especially young, single parents with small children. They might be living on benefits, or with parents, and it can be hard for them to obtain chances for their children to socialise.
A community-organised playgroup can give the children that chance. Not only are they able to play with other kids, but it's also an opportunity to begin learning in a structured atmosphere that helps prepare them for school.
A playgroup can be an important addition to any community. But the impetus for it doesn't need to come from the outside. The community has the power to set up a playgroup of its own.
What It Takes
The first thing it needs is plenty of determination and perseverance. There's a great deal of preparation involved in setting up a playgroup. First, you need a place to hold it – possibly in a spare room in a local school, or at the community centre or church hall. You can't be shy about approaching possible venues.
Who's going to run it? Parents are good to have on a board or committee, since they have a vested interest, along with other community people. Establish a group to take charge of things.
What about materials? Any playgroup is going to need plenty of them, from toys to paints, mats – all manner of things. You can obtain donations from local businesses, but there are still plenty of expenses involved. Grant money is available, but it has to be applied for, which means having someone who knows the system and how to use it. Also, don't forget about insurance.
The place will need some qualified staff, even if you also rely heavily on parents as volunteer help (which has often proved to be a successful strategy). It will need to be inspected by Ofsted if it's open for more than two hours a day, and have a curriculum, so it will need one or two people with the appropriate letters after their names and experience. Additionally, most, if not all the adults should be first aid trained. The adult to child ratio should be 1:4 for 2-3 year-olds and 1:8 for 3-5 year-olds.
What A Playgroup Offers A Community
A community playgroup not only gives children the chance to play together and prepare for school (in some instances organised learning is involved, and play is one of the foundations of learning), it can also involve parents more in the education of their children if they're required to volunteer as a condition of acceptance.
The playgroup board needs to consider when the facility should be open – some offer morning and afternoon sessions, others just single sessions. But if healthy snacks are offered, for some kids it can be a chance for them to eat healthily which they may not otherwise get.
It can become one of the focuses for the community. Young parents who volunteer there can be helped to go on to college and obtain childcare qualifications, for instance. It also helps bring parents into the community, giving them a chance to interact with others and feel a part of the neighbourhood.
Run as a non-profit, it becomes affordable to local residents. Offering a wide range of play activities can make the group into something special, an excellent, desirable educational springboard that can bring extra value to the community.
No one will say it's easy to start. But once it's up and running, with committed people involved, the standards can be kept high, and it can continue to offer something to local residents.
You might also like...