Organising Community Volunteers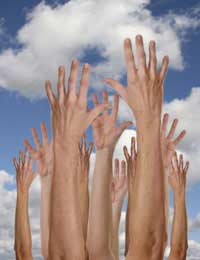 Every community needs volunteers and every community has a pool of people willing to offer their time for various causes. They might do a charity walk, collect for cancer research, or any number of things, but they're the kind of people who can always be relied on to help out. But how do you organize them?
Bringing Together Volunteers
There are essentially two types of volunteers – those who are willing to give time and effort to the community itself, and those who are willing to volunteer to work with specific causes and issues.
You need both types of people if you're going to have your pool of community volunteers, although it's the first group, quite obviously, that will be your core. Be aware, though, that it can take you a little while to find them.
When you're starting out to find volunteers for something, begin by asking your neighbours and friends in the community. Some will help, some won't, but most will know someone else who might volunteer.
From this you can slowly build a network of people. Some will have plenty of time to offer, others just a few hours here and there, but they're all valuable. If you're putting together a group for long-term work in the community, these are the people who will be of great assistance. They, too, will know people in the area willing to help.
All will have different skills. Take time to discover them and work to those skills and interests, which will pay dividends in the long run.
Volunteers for Specific Issues
In many ways, it's easier to organise volunteers for specific issues or events than anything else. If it's something involving kids, for instance, then you can easily discover parents wanting to be involved. Community days or galas will bring people from different organizations. With many groups around it can be quite easy to tap into volunteer talent for these kinds of things.There probably won't be much crossover between the two groups, so you'll need to establish a database of who you can call on for what types of volunteer work. You might well be surprised at the number of names you gather overall – different things appeal to different people.
Of course, you might need to use a little gentle persuasion at times, if you're short of volunteers for something. That can work in the short-term, but for obvious reasons, it's not a good solution. People will help out, but what you really need are those who are committed to a cause, not ones simply putting in the hours. They can become resentful and reluctant to volunteer for other things.
Above all, you need to be willing to put in work yourself. If you're getting people on board to help, you have to also throw yourself into it, and be willing to do all the jobs that need doing. At the same time, you also have to be willing to delegate and trust those working with you (and remember, it really is with you, not for you).
You're going to need a lot of stamina and a silver tongue if you're going to organize community volunteers – on any level.
You might also like...